Mask Banao, Jaan Bachao in COVID-19
During the COVID-19 pandemic, many campaigns have been initiated to help people gain tools to fight the virus, including Mask Banao.
Necessity is definitely the mother of creation. During the COVID-19 pandemic, many campaigns have been initiated to help people gain tools to fight the virus. One such campaign to tackle COVID-19 is Mask Banao, Jaan Bachao (Make a mask and save your life).
Mask Banao is a social campaign to promote the use of home-made masks in Pakistan during the COVID-19 pandemic. To encourage the usage of such masks, Mask Banao allows people to make 3 different versions of the mask – the 40 second mask, the 2 minute mask, and the 10 minute mask.
Mask Banao, Jaan Bachao in 40 seconds
Things you Need
Bandana, scarf or square cotton cloth
Rubber bands (or hair ties)
Scissors
Instructions
Fold the bandana in half.
Fold top down. Fold bottom up.
Place rubber bands or hair ties about 15 cm apart.
Fold both sides to the middle and tuck.
The mask is done. Place it over your nose and mouth.
Mask Banao, Jaan Bachao in 2 minutes
Things you need
Scissors
T-shirt
Tissue paper or clean cloth
Instructions
Cut the T-shirt in the indicated pattern.
This will form a hollow 'mask' with two sets of straps.
Take a piece of tissue paper. A clean square of cloth will also work.
Place the tissue paper between the front and back of the shirt.
The two upper straps will be placed behind your neck and the two lower straps will be placed at the back of your head.
Tie the straps accordingly to form a mask which covers your nose and mouth.
Mask Banao, Jaan Bachao in 10 minutes
Things you need
Two 25cm x 15cm rectangles of cotton fabric
Two 15cm pieces of elastic (or rubber bands, string, cloth strips, or hair ties)
Needle and thread (or bobby pin)
Scissors
Sewing machine
Instructions
Cut out two 25-by-15-centimetre rectangles of cotton fabric. Use tightly woven cotton, such as quilting fabric or cotton sheets. T-shirt fabric will work if needed. Stack the two rectangles; you will sew the mask as if it was a single piece of fabric.
Fold over the long sides about 6 mm and hem them. Then fold the double layer of fabric over 1cm along the short sides and stitch down.
Run a 15-centimetre length of elastic through the wider hem on each side of the mask. These will be the ear loops. Use a large needle or a bobby pin to thread it through. Tie the ends tight. Don't have elastic? Use hair ties or elastic head bands. If you only have string, you can make the ties longer and tie the mask behind your head.
Gently pull on the elastic so that the knots are tucked inside the hem. Gather the sides of the mask on the elastic and adjust so the mask fits your face. Then securely stitch the elastic in place to keep it from slipping.
Visuals to help you make a Mask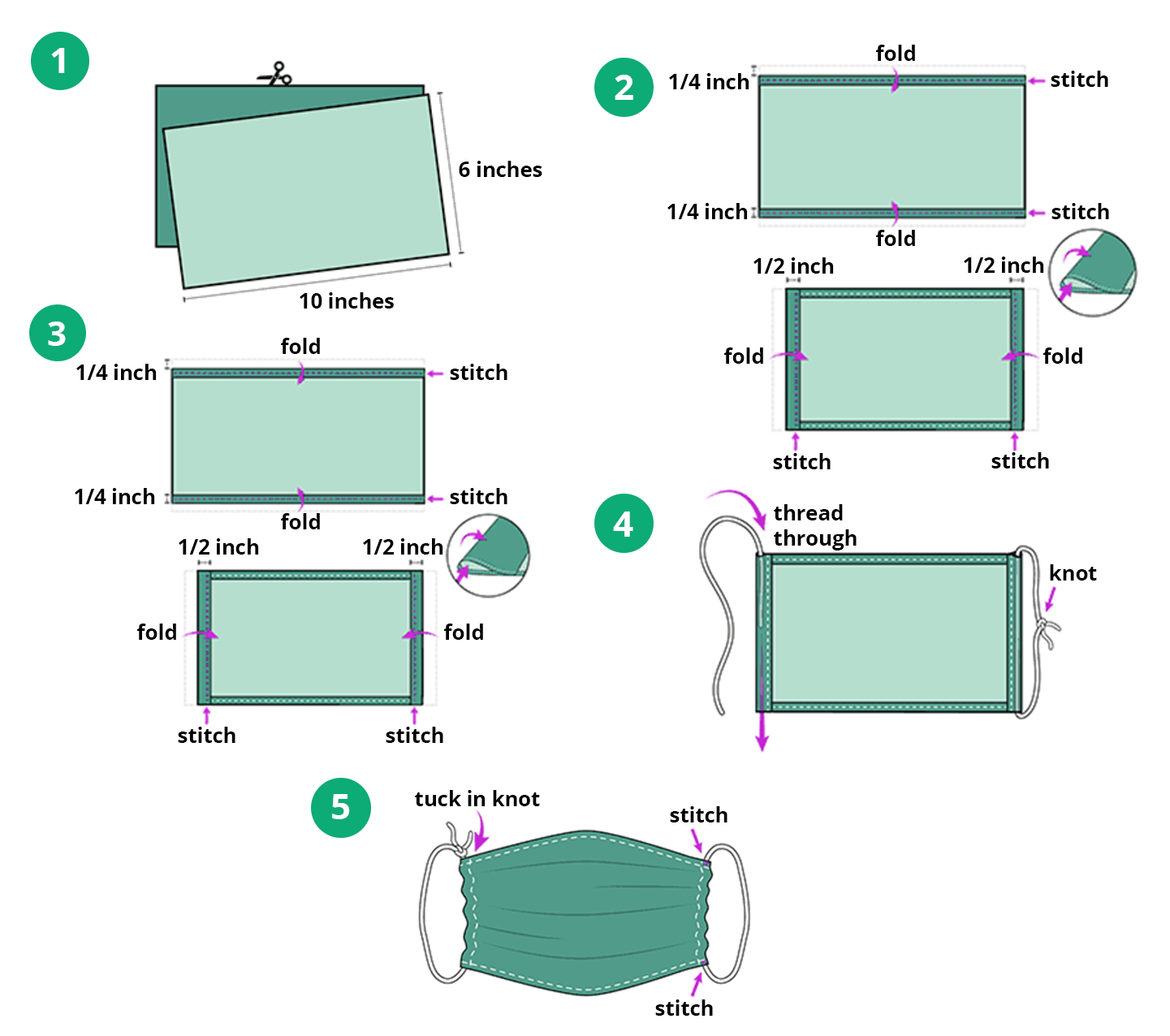 Please stay safe in these times by socially distancing. Make sure that you follow the health protocols set by the government, and try to wear a mask whenever you are in public. Now with the help of Mask Banao, you can save your life from COVID-19.
If you wish to donate to Mask Banao's fundraiser to help them make 1 million masks for tackling COVID-19 in Pakistan, find the details below:
Account information for Pakistan:
Meezan Bank [Cantt station Branch]
Account no. 99460103304813
Account title: Amar Lal
Swift code: MEZNPKKKA
IBAN: PK32MEZN0099460103304813
Gofundme Link: https://www.gofundme.com/f/make-1-million-masks-to-fight-covid19-in-pakistan
About Us:
Runway Pakistan is a complete solution provider for all your marketing communications related requirements. The ultimate hub of infotainment – Runway composes of all the key offerings – Monthly Print Magazine, Digital Magazine, Media Production, Creative Agency, PR Agency and Marketing Consultancy that a brand needs to be seen, heard and known!
Like and follow our Facebook page: